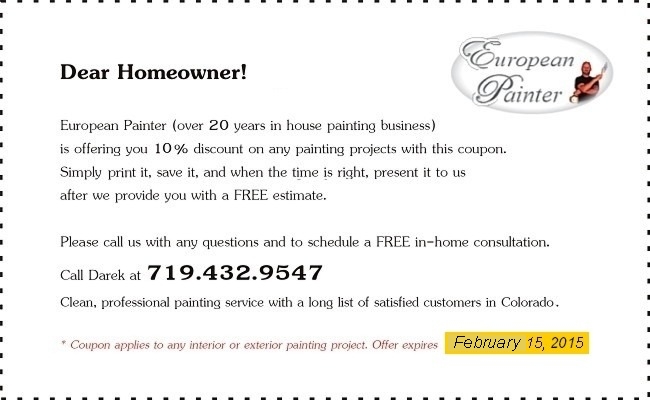 PRINT IT - SAVE IT - USE IT
* Good for decorative painting (murals, faux, furniture decorating) - as well as for regular house painting.
Let my skilled painting crew refresh your house with paint!
Excellent prep work (power washing, scraping, caulking, rotten trim replacement).
We use only quality paints and take pride in a quality workmanship!
Custom house painting and decorating in Colorado Springs, professional color consultations, free painting estiamtes, house painting and repainting, professional prep work will make a difference, European Painter also offers quality house painting, deck and wood siding staining, decorative concrete staining and much more, professional painting, painter, painters, faux painters, faux painting, decorative painting, murals, stencils, marbling, faux marble, woodgraining, faux techniques, faux paint, european painter, european painters, Darek Sokol, Dariusz Sokol, Polish artists, Polish artist, Polish painter, Venetian Plaster, faux leather finish, fresco, textures, Sokol, painters in Colorado, painters in Colorado Springs. Faux painting, Venetian Plasters, murals, furniture refinishing and decorating, marbling, faux granite and marble kitchen counter tops, Tuscany Murals by European Painter - Colorado Springs, Christian Murals by European Painter, Stencils by European Painter, Italian Murals by European Painter - Colorado Springs, kids rooms and furniture decorating by European Painter, Murals by European Painter - Colorado Springs, Faux Marble, Marbling, Marbleizing by European Painter - Colorado Springs, Ceiling Murals by European Painter, Kids Murals by European Painter, Signs and Stencils by European Painter, guide to decorative painting on the Internet, Decorative Painting Studio specializing in Italian Plaster, Antique Restorations, Trompe L'Oeil, Painting Restoration and more, it is my mission to foster and promote excellence in restoration and conservation with a historically faithful preservation approach. Our knowledgeable tradespeople, artisans, scholars, and business professionals are experienced in the use of traditional methods and materials. They advocate for the integrity of the original design intent, the preservation of architectural fabric, and the coordination and cooperation of trades within a framework of owner/architect/contractor collaboration; painting Denver, Wall Murals Denver, Faux Finishing Denver, Denver Murals, decorative artist offers hand painted wall murals and decorative wall paintings, canvas murals, hand painted furniture, The Pikes Peak Chapter of the Society of Decorative Painters, decorative artisan specialising in Faux finishing, European plaster and custom decorative painting, European Painter serves Colorado Springs, Monument, Palmer Lake, Castle Rock, Castle Pines, Littleton, Highlands Ranch, Denver, Longmont, Parker, Franktown, Pueblo, Manitou Springs, Cascade, Woodland Park, Divide, Black Forest, Fountain, Falcon,